Destination: Maulbronn Monastery: a unique and charming monument
A UNESCO World Heritage Site at a distance of only 7 km
The Maulbronn Monastery as one of the World Heritage Site has always been on your list of places to see? It's only a 15-minute-ride from our hotel and there is more to see in the region.... Enjoy a perfect week-end with a visit to the monastery: Stay two nights at our traditional hotel at the historic market square of Bretten, a stroll through the Old Town and a visit to the house of the town's famous son, Philipp Melanchthon, an evening of culinary delight at the Krone restaurant – à la table de Guy Graessel, a wellness break in our relaxation oasis, a hiking tour or a bicycle ride to the monastery. Along the way, you will find various inviting wine stalls offering regional foods and wines. Upon request, we will organize a bus transfer back to the hotel for you.
Sounds like a perfect mix of culture, delight and well-being, doesn, it?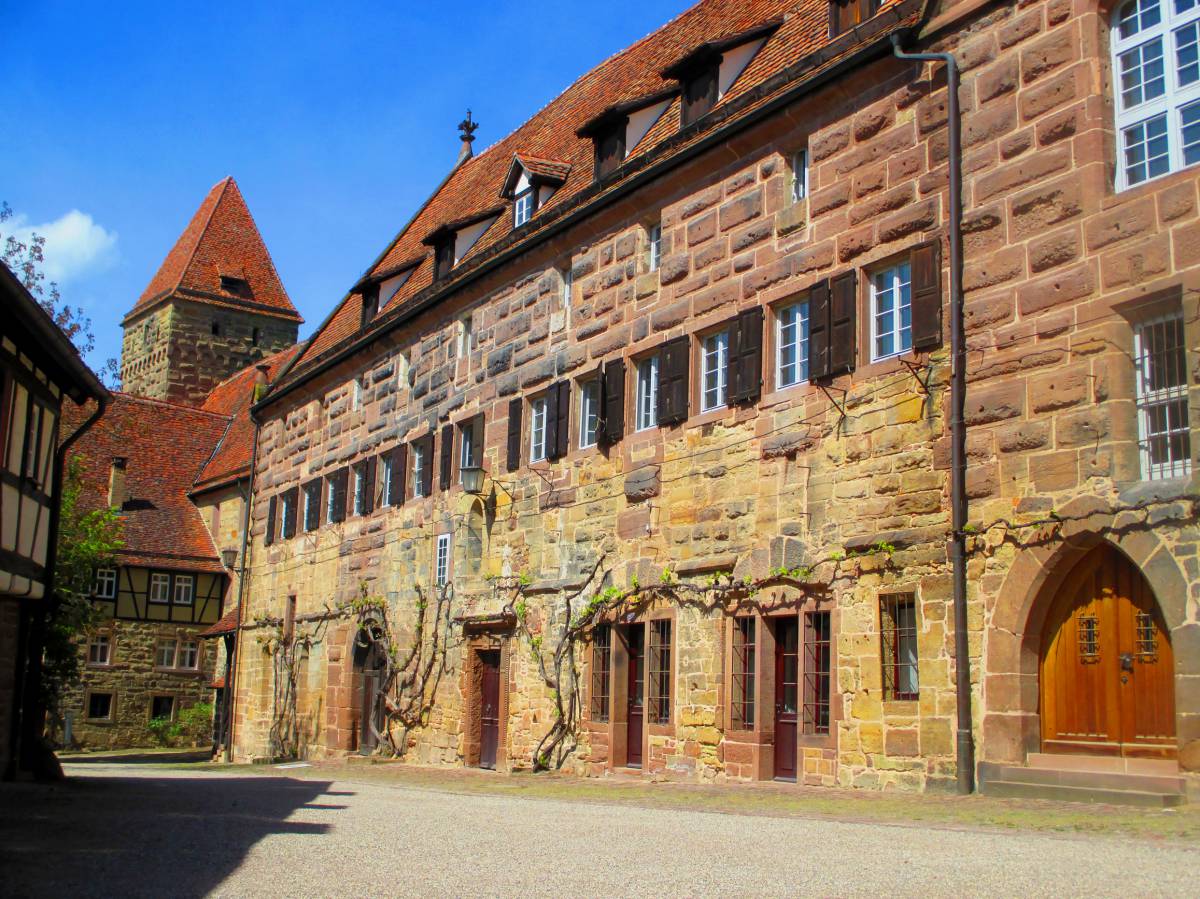 Maulbronn monastery complex
The Maulbronn Monastery is more than just a simple monastery
At a distance of only 7 km from Bretten, this UNESCO World Heritage Site is definitely worth a visit! The beautiful abbey with different architectural styles were built in different eras. The Cistercian Maulbronn Monastery is quite impressive with its church, main buldings, houses, fortified walls and towers, partially dating back to the 12th century. The Monastery complex is considered one of the most complete and best-preserved medieval monastic complexes north of the Alps.
There are cafés and restaurants situated around the monastery to enjoy some culinary delight. The Kloschderlädle and the Kräuterhexe are small souvenir shops within the fortified walls of the monastery, with a great selection of small gifts. There is a nice circular trail called "Zisterzienserrundweg" that will take you to the monastery vineyard, the fishpond and the irrigation canals outside of the fortified walls. Enjoy a lovely landscape in an impressive architectural and historic setting! Maulbronn belongs to the "Naturpark Stromberg-Heuchelberg" region – a magic landscape with an agricultural tradition dating back as far as to the monks of the monastery who used to cultivate all sorts of vherbs and crops, as well.